Our staff's commitment to you
Our staff is committed to providing support, compassion, information, and direction as needed to all members of our community, their families, and friends who are dealing with loss and grief.
Pleasant Grove Chapel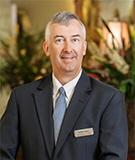 Randy Hall
Family Care Provider
Randy has been working with Julian Peeples Funeral Home since 2002. He manages the vital records and prepares video and memorial productions for services. He has been married to his wife Treasia for 41 years. They are member of Rock Bridge Community Church. They have two children, son & daughter-in-law, Zachary Hall and wife Dr. Jami Hall and daughter & son-in-law, Natalie and Lance Sharp. They also have 6 grandchildren, Hayden, Jason, Jeremiah, Harper, Marlee. and McKade. Randy and Treasia enjoy camping in their travel trailer and following the Georgia Bulldogs. They live on the family farm where he spends a lot of time mowing and working around his fish ponds. I consider working at the funeral home as my ministry, helping families when they need it most.
Rocky Face Chapel