Our staff's commitment to you
Our staff is committed to providing support, compassion, information, and direction as needed to all members of our community, their families, and friends who are dealing with loss and grief.
Rocky Face Chapel of Julian Peeples Funeral Home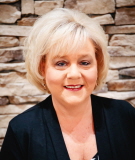 Joetta Arnold
Lead receptionist and Coordinator at Rocky Face Chapel
rffuneral@optilink.us
Joetta Arnold is a member of Tunnel Hill Baptist Church and has one daughter, Brooke, and three grandchildren, Hallie, Griffin, and Clay. Joetta enjoys helping families at the funeral home in their time of need.